We recognize outstanding achievements in social work at our annual awards banquet. We celebrated our social work award winners at the 2019 Conference & AGM. Nova Scotia social workers who meet the criteria for these awards are nominated by their colleagues.
Honorary membership
Geraldine Browning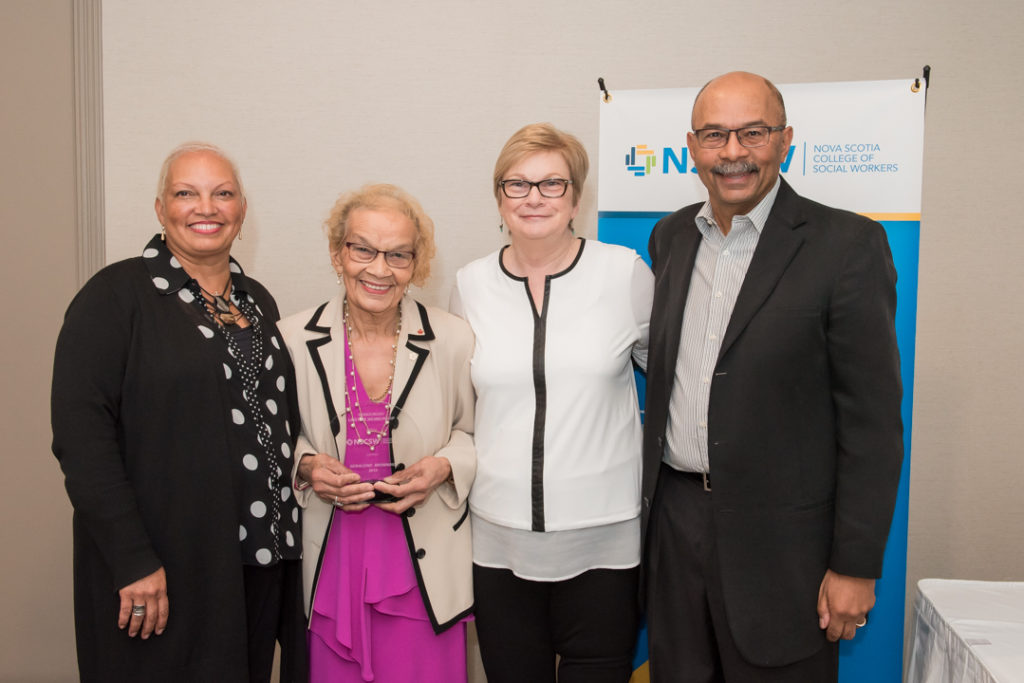 Geraldine Browning grew up in Nova Scotia, in Gibson Woods and East Preston. As a teenager in the 1950s, she set her ambitions on becoming a social worker or nurse. The principal of her school told her that she would never be able to become either in Nova Scotia, because she was Black.
Although Mrs. Browning was denied access to the profession of social work, her work and life continued to exemplify core social work values of respect for the inherent dignity and worth of persons, pursuit of social justice, and service to humanity. She was a teacher, a nurse, a parent, and a community organizer and advocate. She has worked tirelessly in her communities to counter racism and discrimination; promote literacy and education; and protect women, children, and elders from violence and abuse.
Many groups that exist to this day have benefited from her efforts as a founder or board member, including the Black Business Initiative, the Black Cultural Society, and the Valley African Nova Scotia Development Association. She has continued to volunteer in her community, and shares her story with students at schools and universities. Mrs. Browning has received an honourary Doctor of Humanities degree from Acadia University, and the Order of Nova Scotia.This year, the College was pleased to be able to honour Mrs. Browning with an honorary lifetime membership. We are grateful that so many in our province have been affected by her life's work.
Canadian Association of Social Workers Distinguished Service Award
Marion Brown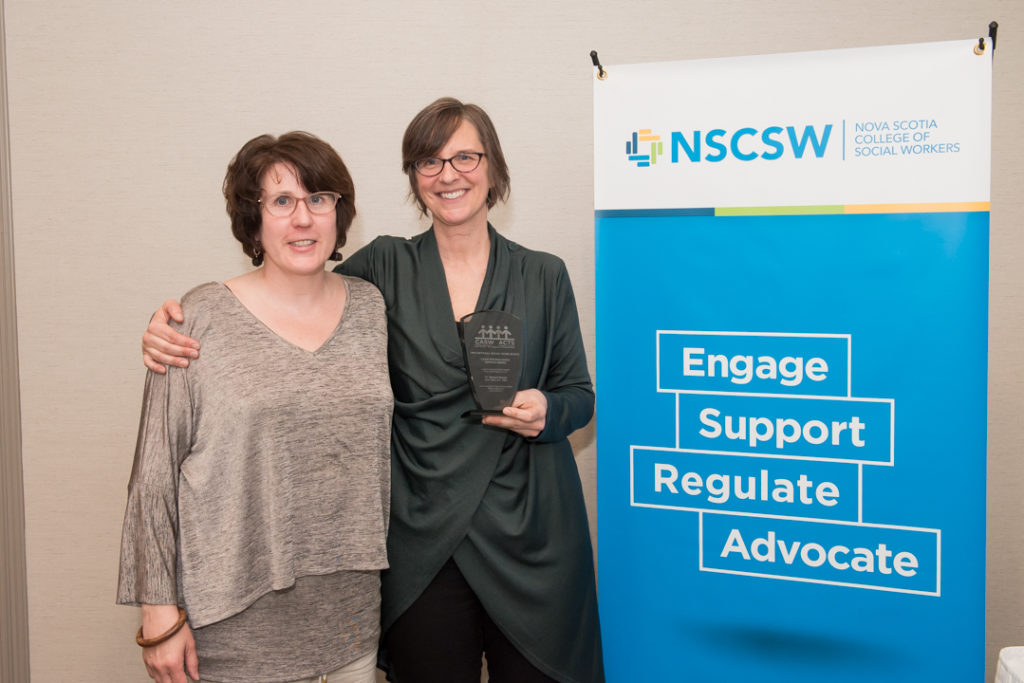 Marion knew when she was a teenager that she wanted to be a social worker. She now holds bachelor, master, and doctorate degrees in social work, and has dedicated her life to this profession and practice. For nearly three decades, she has worked as a practitioner, an advocate, an educator, and a researcher.
The colleagues who nominated her for this award tell us Marion is animated by optimism and compassion, and driven by an analysis of social justice tempered with compassion and humility. Her research and community work focuses on health equity, sexualized violence, migration of social workers, experiences and trajectories of youth both in and out of child welfare care, and professional identity. She expertly connects individual experiences with systemic and structural social issues, and she sees possibility for change in each encounter.
Marion currently teaches at the Dalhousie School of Social Work, and has a small private practice. She also facilitates program and leadership development. She has offered her effort and expertise to many organizations, including our College, but with particular focus on those that help children and youth. She is a founding member and Board Chair of the North End Opportunities Fund, a grassroots non-profit that facilitates equity and inclusion for young people to pursue their interests and talents.
We are fortunate to have Marion as part of our social work community.
David William Connors Memorial Award
Heidi Stevens
Heidi was nominated by a former mentee, now a colleague, because of her commitment to supporting young people in Cape Breton.
Heidi continues to provide frontline social work in her case management position where she often leaves the confines of her office and offers services to clients where they are at, literally – in their homes and communities. She has developed impeccable knowledge of ongoing and ever-changing community resources, and develops relationships with these providers. Their respect and belief in her work is evidenced by the way they remain in contact with her and keep her updated on provision changes and how clients are doing. They know she cares.
Heidi is skilled at working with youth who are living with or have experienced psychosis, as well as their families. She helps youth to establish and embrace a meaningful and full life, even in the face of hardship. Her approach to practice demonstrates her belief in each human being's personal worth and ability. She has led by example, conveying respect, care, empathy and dignity towards others in the delivery of social work.
Diane Kays Memorial Award
Deanne Matheson-Fuller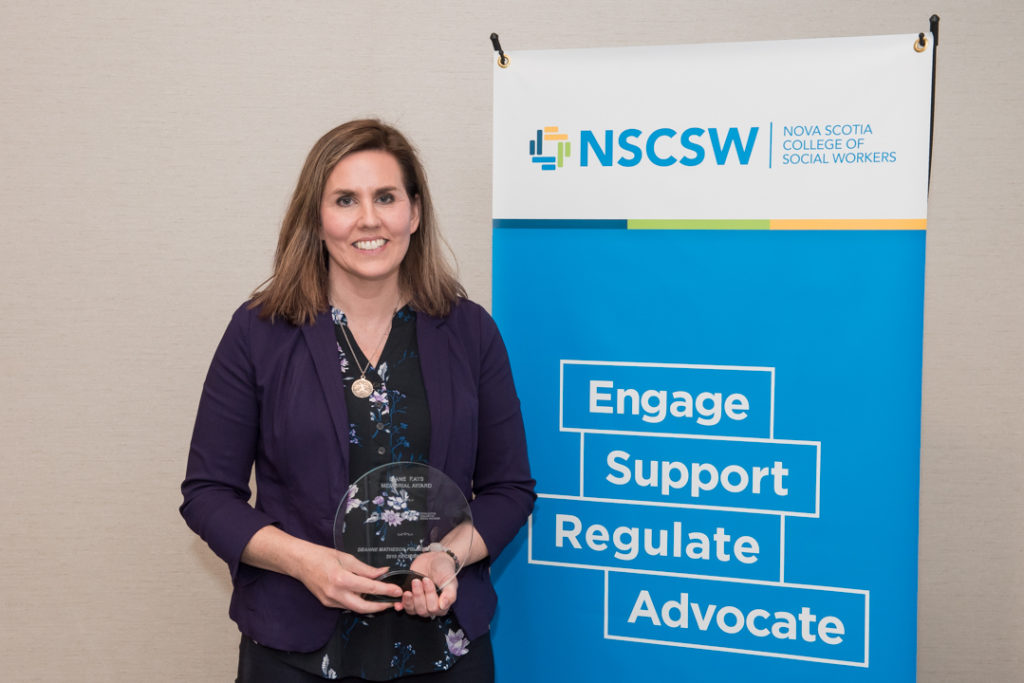 Deanne grew up in Cape Breton. She returned here in 2015 after years in Ontario and the US, and soon started a private practice based in Sydney.
Deanne's private practice provides trauma-specific treatment to individuals and families in Cape Breton. She has extensive skills providing clinical therapy services to youth in particular, and she has been increasingly been working with First Nations families affected by trauma.
Many social workers have been influenced by Deanne's presence in her short time practicing in Cape Breton. She came to Nova Scotia with experience teaching university students, and since then she has supervised several Social Worker Candidates, including the person who nominated her for this year's awards. She empowers others in the field of social work to learn, and to develop competencies to support the clients they serve and to address social needs. Her knowledge around supporting individuals affected by trauma is impressive, and her motivation to make a difference in their lives is contagious. Deanne models a dedication to professional development that reflects her commitment to our profession.
Freda Vickery Award
Tonya Grant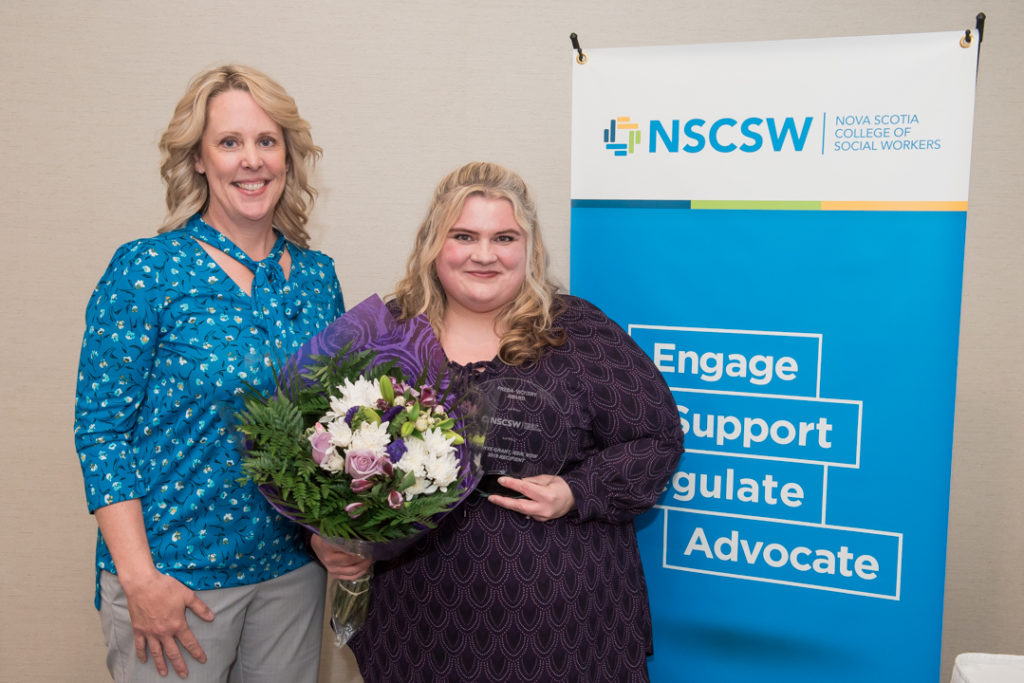 Like Freda Vickery, Tonya was the chief of social work at the IWK Health Centre. And like Freda Vickery, Tonya volunteers and is very involved in our college. Tonya also embodies the ethical values of social work practice at the micro, mezzo and macro levels.
During her time as the Chief of Social Work at the IWK, Tonya's creativity and imagination in her work was forefront. During this time she developed and launched a mentoring program to ensure new social workers had support in navigating the healthcare system. She continued to promote and advocate for the profession within this system, and organized events to create opportunities to offer and receive support from one another.
Tonya gives freely of her time. At NSCSW, she is the current chair of the Board of Examiners and the former chair of the private practice committee. She has been involved in many important initiatives to assist in moving our profession forward, while adhering to the ethical standards and values of our profession to protect the public.
Currently Tonya is working at the provincial level as the coordinator for trauma informed care, working with the mental health clinic in Amherst, and maintains a private practice. She has spent countless hours researching the history of the social work profession, and teaches a course about this subject for social work students at Dalhousie University. In her award nomination, colleagues speak of her knowledge and integrity, her sense of humour, her generosity and empathy, and her demonstrable commitment to professional, ethical social work practice.
---
We will continue to update this page with profiles of all our award winners from the 2019 awards banquet.