You can now complete your 2022 registration renewal online. Please follow the steps below to complete the renewal process.
We remain confident in our ability to help our members through the renewal process, though the pandemic has made adaptation necessary for everyone.
If you encounter a problem that cannot be fixed with the troubleshooting tips on this page, please contact the College for assistance. Our staff can assist you by phone, email, or video chat.
If you need to visit our office in person, please email us to make an appointment; our capacity to accept visitors to our office remains limited by the ongoing pandemic, and our office will be closed for several days at the end of December.

Vaccine policy: All visitors entering our office must present proof of vaccination, evidence of legitimate medical exemption, or proof of a negative test within the last 72 hours. If a member is unable to do so, they can request an appointment to receive services via phone, email, or video chat.

Our small but dedicated staff team aims to respond within two business days to all renewal inquiries. Please avoid leaving messages for multiple team members as it can further slow down our response. If the person you contacted can't help you themselves, they will forward your question to the correct person on your behalf.
As we do every year, we strongly encourage you to consider early renewal as a gift to your future self.
1. Member login
Access your member portal.
Use one of the link buttons in this post, or visit NSCSW.org and click the member portal link in the menu at the very top of the page.
Enter your member registration number and password to sign into your member account.
Login tips & troubleshooting
Can't remember your member registration number? You can find it by looking up your name in the public registry; type it in with no spaces or symbols. Or you can sign in using your primary email address.
Can't remember your password? Click "Forgot your password?" and follow the directions, and you'll receive an email with instructions to regain access. All fields are case-sensitive.

Use the password reset option early; your profile will be locked if you enter an incorrect password three times in a row. Locked profiles will need intervention from College staff to unlock them.
We're not sure why, but Hotmail addresses sometimes block our password reset emails and renewal notifications. If this happens to you, please contact us for help resetting your password. And if you have another non-Hotmail address you check frequently, please consider adding it to your member account instead.
You must type in your email address to request a password reset; entering your member registration number won't work here.

Are you at work? Digital security settings at your workplace might limit which websites you can visit, or which ones can save "cookies" on your computer (i.e. small data files exchanged between your device and the website you visit). Without cookies, the database will seem to keep forgetting that you're logged in, because it can't recognize your computer from one page to the next. Try using a personal device from home, or talk to your IT department.
Is your browser up to date? Microsoft is retiring Internet Explorer, but they have a new browser called Edge that is pre-installed on new Windows computers. There are many other modern web browsers available as well; Safari, Google Chrome and Mozilla Firefox should all work, as long as your software is kept up to date.
Still can't get in? Please double check whether you've clicked on the member portal. (The applicant portal link is not for renewals; it's designed for people who are applying to join NSCSW for the first time and do not have a member number yet.)
2. Professional development inventory
Click on Professional Development in the menu, and select Activities.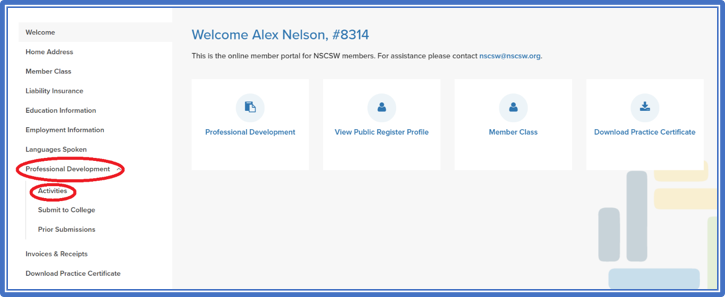 Scroll down and find Add Activity.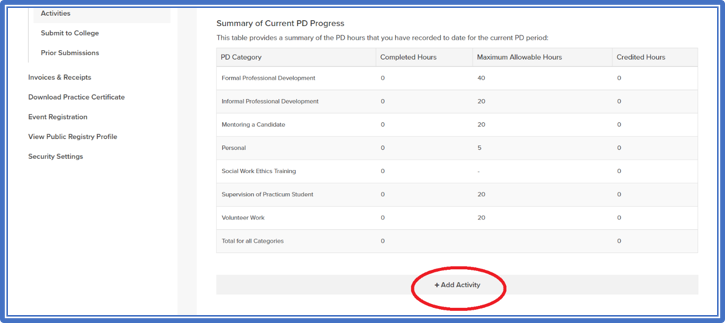 Use this option to enter each of your professional development activities from 2021.
Professional development hours in social work ethics are tallied separately, because they are counted over five years, not one. Scroll down to see your multi-year total of ethics hours. If your ethics hours are due this year, you will need to make sure they are complete before you continue.
When you're done, choose Submit to College from the menu.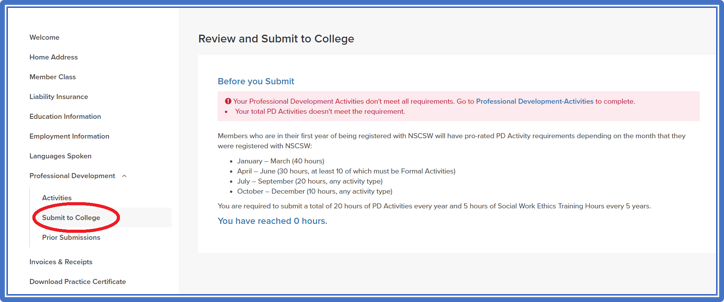 Once your minimum hours are met, the Submit button on this page should change its colour to blue – click this to continue. Click Finish when you are done. A renewal form link will then appear on the front page of your member profile.
Professional development tips & troubleshooting
Need more professional development (PD) hours? Our activities page is a work in progress but you can likely find a suggestion there that is relevant to your practice.
Are you a Social Worker Candidate? SWCs are required to complete and report to the College the same amount of PD as RSWs.

Annual PD and the Candidacy Mentorship Program (CMP) are separate regulatory requirements, and are tracked in different sections of the member portal. The PD activities you complete to fulfil your membership renewal obligations should not be counted as CMP activities, and vice versa. However, SWCs may choose to include discussions of PD activities in conversations with their mentor.

If you had active registration for the entire year, you need 40 hours of PD in 2021; of these, at least 5 hours must be formal learning. You may need fewer hours if you were an associate for any part of the year, or joined the College after the first quarter of the year. (See sections 22-25 of the Social Worker Regulations and the temporary changes in response to the pandemic).
If you are an active member who became registered in 2016, you need to have completed your first set of five hours of PD in social work ethics before submitting your renewal.
Members registered before 2016 who were associates at their last renewal will also have ethics hours due if they returned to active status this year.

Ethics hours are not counted towards your annual total. For example: if you need 40 hours of annual PD, and are completing all five ethics hours this year, you would need to enter at least 45 hours of PD activities in the appropriate categories.
These hours are tracked over a recurring five year period, so they are now in a separate table in the member portal from your annual hours. Scroll down on the Activities page to see your multi-year total for ethics PD.
Do you still need more ethics hours? Learn more about where to find them.
If you renew as an associate member because you are not practicing (e.g. parental or medical leave, unemployed, retired, etc.) the ethics requirement will be suspended until the next renewal when you have resumed active status.

For multi-day activities, such as a conference or an ongoing volunteer commitment, you can either enter each day as a separate activity, or choose the start date and enter any additional date information in the description section.
You will only be able to submit the professional development inventory once your minimum hours are met.
You won't be able to edit activities or add new ones after you submit the inventory. Please make sure all details are complete before you click the button. If you accidentally submit too soon and need to make changes, you will need to ask College staff to assist you.
3. Complete renewal form
Complete the entire renewal form. Review all your information and confirm it's correct.
Do you have a new mailing address, primary email, or phone number?
Is all your employment information up to date, and complete?
Are you interested in a position on Council, or a College committee?
Are you subscribed to our mailing list to receive updates from the College, the biweekly email newsletter, and Connection magazine?
Please make all your updates and changes before you submit the form.
Renewal form tips & troubleshooting
Have you confirmed your liability insurance? All members must attest that they have sufficient liability coverage, which may be obtained via an employer and/or independently. Further documentation is only required for members who are solely liable for their practice (i.e. Private Practitioners).
Your "common first name" is the name you are commonly known by, and/or prefer to be called. It might be be your legal first name, your middle name, or a nickname; whatever it is, it should be included in our registry so that someone searching for that name will be able to find and confirm your registration.
Are you registered in other jurisdictions? You only need to declare these if you hold full membership, active status, or equivalent. If you have a temporary registration that only entitles you to telepractice in that region, this does not need to be declared during renewal.
Are you a Private Practitioner? The public registry will identify all Private Practitioners, but will only include contact information for your practice if you (1) enter your practice information in the employment section and (2) give consent for us to publish it in the registry. These steps are on two different pages of the renewal form.
4. Select payment & submit renewal form
There are three payment options:
To pay online, click the Pay Now box next to your registration fee(s), enter your credit card information, and click Process Payment.
To pay by mail, select Cheque. Your cheque payment must be received before December 15.
If your employer plans to submit payment directly on your behalf, select To Be Submitted By Employer. You will be able to view and print an invoice for them.
If your employer is reimbursing you for registration fees, you may choose whether you prefer online or cheque payment. After your renewal is complete you can print copies of your receipt directly from your member profile, and submit them to your employer according to their internal process.
Payment is due no later than December 31 (see Late Renewal section below).
Payment tips & troubleshooting
We will only accept payments once the online renewal form is complete.
Cheque payments are only accepted until December 15, 2021, to allow time to process and deposit payments before the end of the year.
We do not recommend post-dating cheques. If a member's cheque payment fails in late December, they may not have time to complete an alternate method of payment before the deadline, and could have their registration suspended.
If your employer submits payment to the College on your behalf:

Please ask them about their internal procedures and deadlines. You must complete the renewal form before we can accept their payment, so they may require you to provide them with a copy of your invoice. They may need time to collect and process these for multiple staff members at your organization, so act early.

Are you also a Private Practitioner? Most employers do not cover the $50 annual fee to maintain your entitlement to engage in private practice. To pay this portion yourself when you're completing the renewal form, use the Pay Now checkboxes to split your payment; select the box next to Private Practice Fee and deselect the one next to Annual Renewal Fee.

We strongly encourage you to pay online if you can. Cheques can be dropped through the our mail slot, but in-person card payments will require an appointment (please email us to book one), as our office is closed to drop-in visitors.
5. Completing renewal
Your registration is renewed for 2022 once the College receives both your complete online renewal form and your payment of registration fees. You need to renew your registration to continue practicing social work in the new year.
Once your registration is renewed, you can print your receipt and proof of 2022 registration (i.e. certificate or wallet card) directly from your online member profile.
Leaving the College
If you have retired or left the province and will not be renewing this year, please contact Ogo Okechukwu at Ogochukwu.Okechukwu@NSCSW.org.
If you have changed positions and believe you are no longer practicing within the Scope of Practice as defined by the Social Workers Act, you may apply for resignation by submitting a request and current job description to the College's Executive Director/Registrar for review in accordance with Social Worker Regulation 26 (a). Please send requests for resignation to our Executive Director/Registrar Alec Stratford at Alec.Stratford@NSCSW.org.
Why is registration renewed annually?
The annual renewal process is a core NSCSW regulatory function. It confirms to the public that our members have the ethical foundation, skills and good character to practice social work in Nova Scotia.
Renewal is also an opportunity to reflect on your professional growth and development, and to bring to life the core social work value of integrity in professional practice. You're recommitting to the values and standards of our profession and reflecting on your goals and commitment to lifelong learning.
Professional social work registration is a privilege our members can take pride in.
Late renewals
If a member's registration is not renewed by December 31, it will be suspended on January 1. The member will need to pay an additional fee to reinstate their registration.
The Social Workers Act requires that individuals who practice social work in this province must be registered with our College. If a member's registration is suspended, this may affect their employment.
It is each individual member's responsibility to ensure their own registration is renewed on time. We encourage all members to consider completing their renewal as soon as possible.
Early bird renewal draws
We randomly selected a member who completed all steps for their annual registration renewal before October 31, and a second from all members who completed renewal before November 30.
The two winners are both being offered a free ticket to the College's May 2022 conference, Social Work: Leading Transformational Change in 2022. Their names will be published shortly.
(College staff and Council were not eligible for these draws.)