Read the October 2017 issue of Connection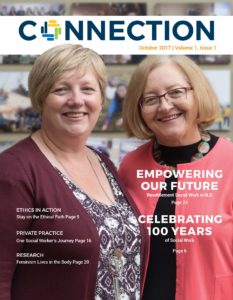 Transforming the College's Connection
Just like the profession of social work, the College's Connection has a rich history.
Connection began as a newsletter in 1966. We've since transformed from an Association into a College focused on promoting the profession of social work and illustrating the essential role social workers play in helping Nova Scotians live happier, healthier lives.
Connection magazine spotlights social workers and social work stories impacting our province and profession, shares new developments in the field, findings from research and more.
Advertise in Connection Magazine
Share your message with over 1900 social workers in Connection magazine. Connection is a full colour magazine that is distributed quarterly to Nova Scotia social workers, government, community groups and more.