We invite and welcome all social workers to join in honouring African Heritage Month.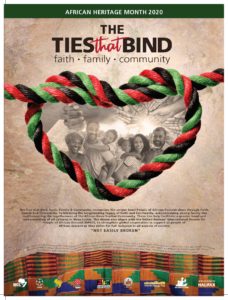 "The 2020 African Heritage Month theme, The Ties that Bind: Faith, Family and Community, recognizes the essential traits that sustain the strength, resiliency and togetherness of the African Nova Scotian community.

These ties are the bedrock for the African Nova Scotian community which helped them support and stay connected to each other.

The theme aligns with the 'Recognition' pillar of the United Nations International Decade for People of African Descent (DPAD). We must recognize the important contributions of people of African descent, while also acknowledging the long-standing prejudices and unfair treatment that endured for generations."

Source: African Nova Scotian Affairs
African Heritage Month is a time for celebration and recognition of the important and distinct contribution African Nova Scotians have made to this province. Throughout the month of February, the NSCSW will be featuring and celebrating the incredible contributions of African Nova Scotian social workers, by sharing the stories of past NSCSW award winners on our social media accounts. We invite all to share these stories as wide as you can.
For all social workers, African Heritage Month is also an important time to reflect on the urgent and continued work that is needed to create full inclusion and belonging in Nova Scotia. For the last year, Nova Scotians have been involved in public discourse that painted a clear picture of how anti-Black racism continues to impact all of us. From the report by Dr. Wortley on street checks, to the Restorative Inquiry into the Home for Colored Children, to the continued documentation of abuses of state power against the African Nova Scotian community, we have a long way to go. 
One of the core questions that all social workers need to examine is what impact has intergenerational slavery had on me? Part of practising from an anti-oppressive lens is continually asking ourselves how continued prejudice and historic slavery has affected our own perspective and bias, and how we can address this behaviour. 
We invite all social workers to celebrate the contributions of African Nova Scotians to the province, and to reflect on their own shared understanding and the impact of past and current oppression towards the African Nova Scotian community. 
---
Alec Stratford
NSCSW Registrar/Executive Director