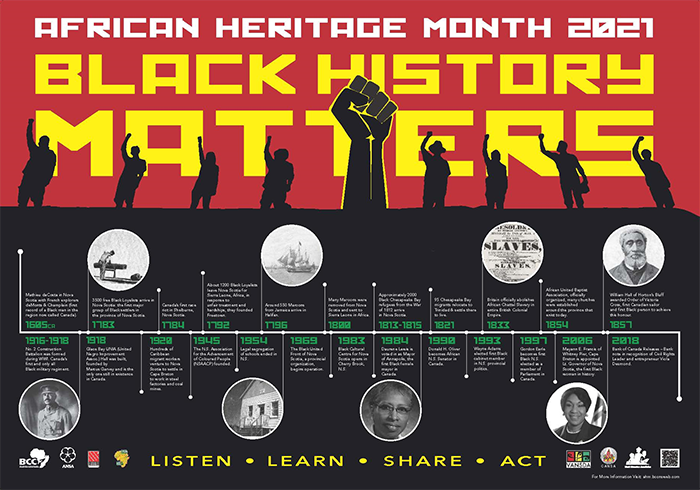 Welcome all to African Heritage Month. This year's theme is particularly relevant as it serves to inform all Nova Scotians about our important African Nova Scotian history, heritage and culture and the role it plays in transforming society. The last year has brought greater attention to deeply rooted racial inequalities that exist in Nova Scotia, which is why this year's provincial theme, "Black History Matters: Listen, Learn, Share and Act," calls on all Nova Scotians to make a better society by recognizing the long-standing history and legacy of African Nova Scotians, and by acknowledging racialized issues and adversity for people of African descent.
We call on all social workers to join us in sharing and learning more about the incredible resilience of Black Nova Scotians and the continued adversity that the over 50 Black communities in Nova Scotia face. This is a time to learn and reflect on this important history, as well as for non-Black social workers to reflect on our on role as allies, and to challenge the ongoing economic inequality that is inextricably linked to systemic, institutional and interpersonal legacies of racism in Nova Scotia.
We hope these resources will help you engage in this learning.
---
Upcoming Events:
Previous Webinars:
---
At the root of the change that that needs to occur is an ideological shift in the current fiscal and social policy that has built a system of haves and have-nots. Social work as profession has contributed and actively participated in discrimination against Black people and communities. As Merlinda Weinberg recently pointed out in her contribution to the most recent issue of Connection magazine:
Social work as a profession has always been a normative based profession, focusing on ethics as a foundational concept. However, when one looks at the vehicles for evaluating ethics, such as codes and decision-making models, and the texts addressing ethics in social work, the absence of the recognition of racism as a fundamental problem in social work ethics is striking. 

Dr. Merlinda Weinberg, RSW
The Absence of Racism as a Fundamental Concern in Ethics in Social Work
Connection — Fall 2020
Dr Weinberg points out that while the Nova Scotia Code of Ethics recognizes 'diversity' and 'discrimination' it omits the term 'racism' completely She writes, "Respect for and celebration of diversity are laudable goals, but they 'whitewash' the more troubling and insidious reality of racism in social work in Canada generally, and Nova Scotia in particular."
At the NSCSW our commitment to anti-racist work will continue and grow. We are committed to ensuring that the College reflects the diverse voices of Nova Scotians by working to ensure representation on the College's committees and staffing. We are also committed and are in the process of examining the pedagogy of social work by working with our national partners to update the Canadian Association of Social Workers Code of Ethics, with the commitment of embedding the principles of the Truth and Reconciliation Commission within them and ensuring meaningful collaboration with Black social workers. Once this review is completed, we are committed to updating the NSCSW Standards of Practice which are at the root of how we regulate the profession, in order to ensure that they are reflective of Afrocentric and Indigenous views.
Through our communications tools, we will continue to share the stories and successes of the important and distinct contributions of social workers from diverse backgrounds. We will continue to organize and offer specific social work education on anti-racism.
Many of our members are already leading the urgent and vital work of identifying and dismantling white supremacy in our praxis, our institutions, and our communities. I urge all of you to join them in this task. I also invite concerned members to comment on this blog post, to contact me or your elected Council representatives to discuss how the College —and our social work community— needs to embrace these changes, or to join College committees and participate directly.
Alec Stratford
Executive Director/Registrar
NSCSW