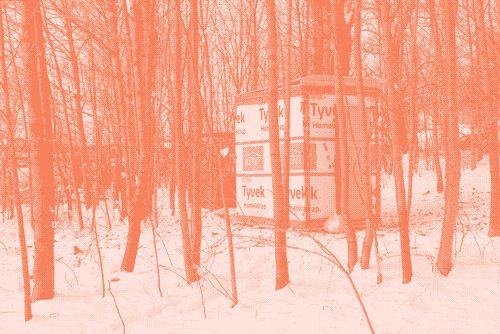 Imagine working and still being unable to afford a place to live. Imagine the struggle involved in trying to keep things together when life's unexpected storms throws you off kilter. Imagine the gratitude you might feel to find an emergency shelter where you can rest as you try to pick up the pieces of your life and move forward.
Now imagine being told that you have a week before your shelter is removed. Imagine that a few days before this deadline, you come back to find that your few belongings that you had managed to preserve through your battle with homelessness are all gone, because your city has decided to remove your emergency shelter several days ahead of schedule, without warning.
For many of us, we are called to imagine and have compassion for news events like the one that was described above. But for a growing number of our neighbors in Halifax this is their reality, and it is terrifying and very wrong. These emergency crisis shelters were built by volunteers working with Halifax Mutual Aid to assist those in need until they can be housed permanently. The decisions to remove these shelters, and then to begin doing so at an earlier timeline than announced without notice to those being displaced, were disingenuous and a breach of community trust.
Social workers and community organizations such as the Halifax Mutual Aid Society are having to scramble to try to provide support, at a time when resources are shrinking. While the provincial government recently pledged to provide 25 million dollars in funding, at some point in the future, these promises are of no help to those struggling with homelessness right now. 
Recently, we joined together with the Nova Scotia branch of the Canadian Centre for Policy Alternatives and several other key stakeholders and community leaders to try to envision effective solutions for our housing crisis. We used our Social Policy Framework together, to create an innovative approach that can ensure that people with housing needs are able to access this basic human right. Most of the calls to action in the resulting report are for the province, but municipal governments also have a key role in housing their residents.
Halifax's government could have embraced this comprehensive and creative proposal, and been willing to think about new ways to support those currently experiencing homelessness, and increase meaningful access to safe, permanently affordable, secure, supported and adequate housing in Nova Scotia. Instead, our capital city chose not only to remove what shelters were already in place, but to begin doing so several days prior than the short notice given, with a post-tropical storm barreling its way toward us.
The lack of compassion, integrity and critical thinking evident in last week's decisions is profoundly troubling. As such, the Nova Scotia College of Social Workers adds its voice to countless other housing advocates who are calling on officials to cease and desist from the ill-advised and ill-timed removal of shelters that have been erected to try to help people transition to permanent housing solutions, and to embrace the vision and plan that is clearly outlined in Keys to a Housing Secure Future for all Nova Scotians.
---
Nadia Siritsky
NSCSW Professional Practice and Advocacy Consultant