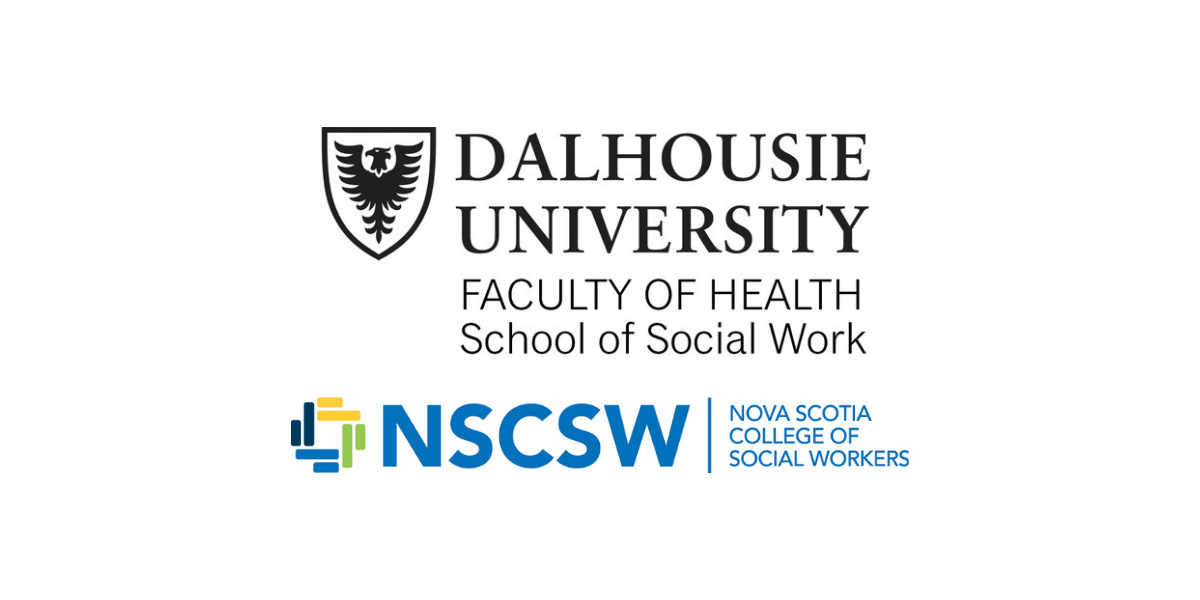 The Nova Scotia College of Social Workers is proud and excited to partner with the Diversity and Equity Committee (DEC) at the Dalhousie School of Social Work on a new professional development series. We hope to help bridge the gap between academia and practice by creating a collective forum where social work students, social work practitioners and social work faculty can come together to discuss important issues related to diversity and equity within social work and beyond.
This conversation series meets the eligibility requirements for formal professional development for our members, and sessions are suitable for the required training that Nova Scotia social workers must now complete related to diversity and inclusion. Those sessions that relate specifically to issues related to Indigenous communities and decolonization will also be suitable for meeting the required training or activities to fulfill our Truth and Reconciliation professional development commitments.
Please mark your calendars now for these events, and stay tuned for more information as speaker lists are finalized for the later sessions. We also encourage you to keep your calendar open for several exciting social work month events and our ongoing professional development opportunities. If you are interested in helping to organize a professional development event, please contact nsiritsky@nscsw.org.
Panel series schedule
All panel discussions with the DEC will be held through Microsoft Teams, from 5:30 p.m. to 8 p.m. Atlantic time. These events are not recorded, in order to facilitate free discussion among participants.
Dr. Ajay Parasram, Dalhousie University: Building Racial Resilience as Therapy for White Fragility
Dr. Harjeet Badwall, York University: Care, Competency and Civility: Interrogating White Liberal Normativity in Social Work
Dr. Jeff Halvorsen, University of Calgary: White (men) Allies Conspiring with The Institution to Re-assert Whiteness
Dr. Dana M. Olwan, Syracuse University: Anti-Muslim Politics and Practices in North America and Transnational Feminist Resistance
For more information or to register: eventbrite.ca/e/panel-discussion-on-interrogating-whiteness-tickets-491139139387
Dr. Isaac Saney, Dalhousie University: 'Misremembering' the Struggle for Freedom: From Slavery to Apartheid
Michelle Sutherland-Allan, Dalhousie University, Elimi-Nation: Indigenous Land and Child Extraction in the Colonial Present
Dr. Yahya El-Lahib, University of Calgary: Resisting Expulsion and Epistemic Violence: Reflections on the Maintenance of Whiteness in Social Work Spaces
Dr. Cynthia Conley, Cape Breton University: Intentional Erasures of 2SLGBTQIA+ Individuals
Dr Nduka Otiono, Carleton University: Un-intentional Erasure?: The Politics of Minority (In)visibility in the Canadian Academy
To learn more or to register: eventbrite.ca/e/panel-discussion-on-intentional-erasures-tickets-493003876867
Querida Quarshie: Maintaining Passion Within Bureaucratic Systems
Talisa Boland: Black Mental Health and Constructing Self-care
Chidiebere Maduakolam: Application of Afrocentric Perspectives in Child Welfare Investigations
Ayeshah Ali: Applying Afrocentric Perspectives to Practice as a Muslim Social Worker
To learn more or to register: eventbrite.ca/e/panel-on-fitting-african-centred-perspectives-into-social-work-practice-tickets-517010019887
Juanita Paris: Experiential Dimensions of Black Health
Dr Taiwo Okunade: Reflective Interrogation of Stigma and Mental Illness in Africa
Nwanneka Ejiofor: African Approach to Psychotherapy
Robert Seymour Wright: Black Mental Health, Human Rights and Reparations
Dr Yinka Akin-Deko: The ICE system, easy steps to get your healthcare needs met
To learn more or to register: eventbrite.ca/e/panel-discussion-on-african-centred-approaches-to-black-health-tickets-507698779717
Dr. N Siritsky, NSCSW staff: A Critical Analysis of Narrative Theory and Therapy
Dr. Terrence O. Lewis, Dalhousie University: Narratives in Culturally Responsive Social Work Research and Practice
Prasanna Kariyawansa: Personal Experiences and Observations about Narrative Practices
Stel Raven: More than a story: Decolonizing Narrative therapy by honouring the sacred act of storytelling
To learn more or to register: eventbrite.ca/e/panel-discussion-on-unacknowledged-roots-of-narrative-practice-tickets-507807835907
Elder Malcolm Saulis: The Early and Persistent Challenges of Establishing the Indigenous Wholistic Healing Social Work Approach
Gail Baikie: Indigenous-Centred Social Work Praxis for Navigating Practice Situations In-Between Worlds and Worldviews
Dr. Brent Young: Disrupting Anti-Indigenous Racism in Healthcare
Michelle LeBrun: Decolonizing Social Work Clinical Practice from the Mi'kmaw Way of Knowing and Being
To learn more or to register: eventbrite.ca/e/panel-discussion-on-indigenous-centred-approaches-to-health-and-wellness-tickets-507048534817