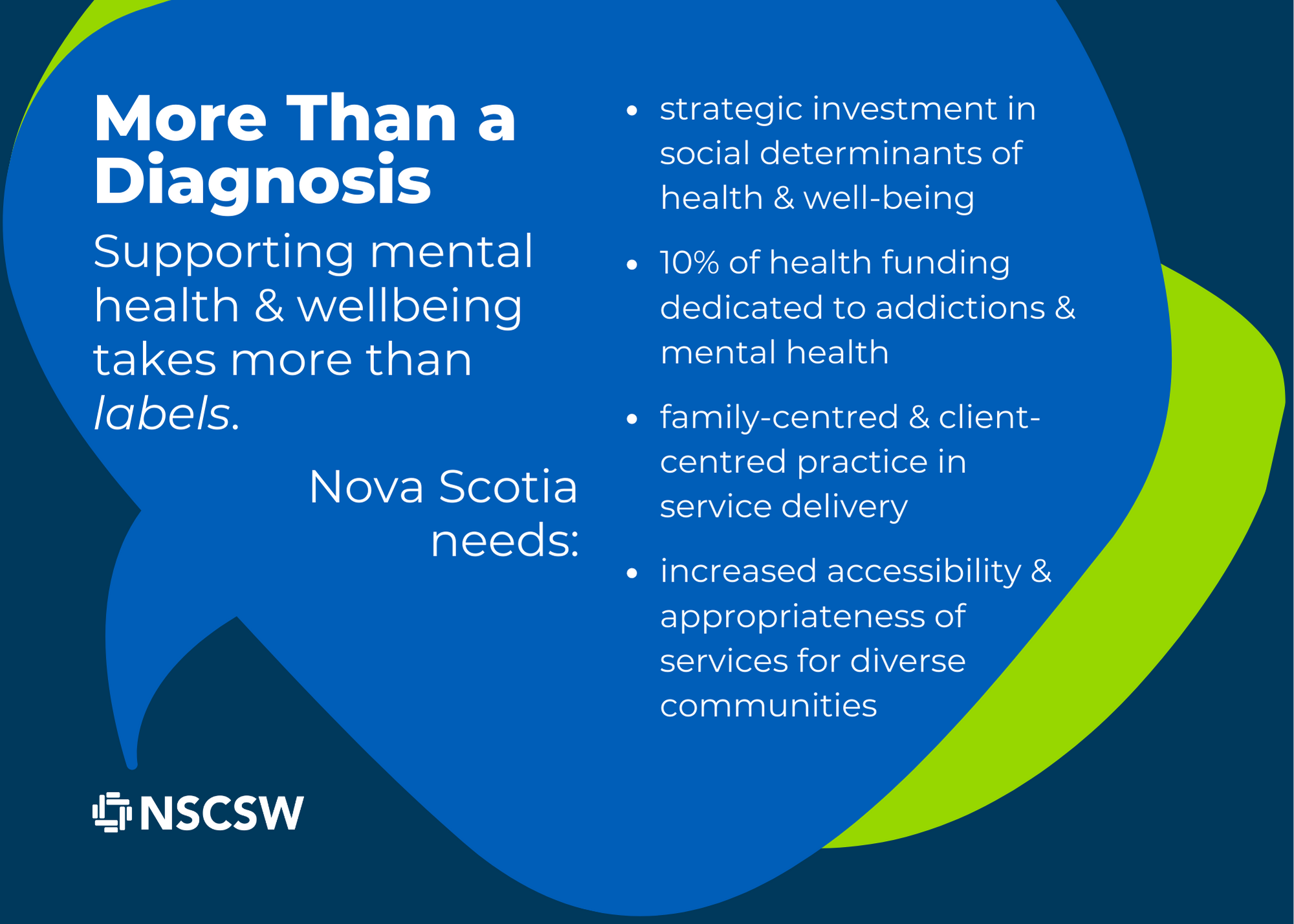 Unfortunately, Nova Scotia's current approach to mental health, and indeed, health in general, does not yet fully take into account all of the social, spiritual and structural issues that profoundly affect us.
Our provincial systems rely heavily on biomedical diagnosis. Diagnosis can be an important tool — it speaks to the observable symptoms that affect an individual's ability to participate in their daily lives and within broader society — but each one of us is more than any diagnostic label can fully express.
You exist in context; your strengths, your needs, your experiences, your relationships, and your goals all have a part to play. And any system meant to support your health and well-being needs to be able to approach you in that context.
Calls for change
In short, Nova Scotia needs:
strategic investment in social determinants of health & well-being
10% of health funding dedicated to addictions & mental health (a benchmark recommended by the World Health Organization)
family-centred & client-centred practice in service delivery
increased accessibility & appropriateness of services for diverse communities
Ultimately, we are collaboratively striving to co-create a system of care that integrates social, spiritual and structural lenses to ensure that every Nova Scotian has access to what they need to thrive.
You have power: Take action!

We Have Power: a Guide to Engaging with Your MLA and Using Your Voice for Change was made possible through collaboration between our College and the Legal Information Society of Nova Scotia (LISNS). This resource is intended to help empower members of the public to engage in local politics. We all play an important role in advocating for a Nova Scotia that serves everyone's needs. We all have the power to shape our shared future.
Visit legalinfo.org/wehavepower to learn more about options that every Nova Scotian has to influence provincial policies. The current version of this resource is a starting point; LISNS is looking forward to expanding it further in the months to come, and we are proud and grateful to be supporting them in this work.
If you picked up one of our More Than A Diagnosis postcards at your local library or elsewhere in your community, we hope you'll use it to contact your MLA and let them know what kind of health and social support you and the people you're close to would need to be well.
Click here to access a full list of Nova Scotia's MLAs, which includes their biographies, information about which community they serve, and their contact information. You can also use this link to look up your MLA based on your home address.
Share the message
Please share this page and the We Have Power link widely with friends, family and colleagues. Visit their campaign page to see their growing collection of changemaker portraits (let them know if you have someone to nominate), and download images you can share on social media.
And talk about it! Strike up a conversation with someone at the library, laundromat, or barbershop, or sit down to chat with someone you love, listen to what they need, and discuss how they might choose to advocate for what matters to them.
We encourage every person living in Mi'kma'ki who yearns for justice and equity to take this opportunity to lift their voices in chorus and demand the changes we have all been waiting for.
We're not alone, and neither are you
Our efforts are built around a growing network of groups that are uniting their voices in advocacy for a shared vision of what mental health and well being in Nova Scotia can become. Partners include the Canadian Mental Health Association Nova Scotia Division, Legal Information Society of Nova Scotia, and Shelter Nova Scotia, who have all agreed to join with us for Advocacy Day this year.
We have power when we work together for change.
Advocacy Day: March 24, 2023
If you're visiting this page before March 24, please consider coming to our Advocacy Day mini-conference, which is free and open to the public. This annual event creates opportunities for social workers, social work students and social work educators to join together with clients and community organizations in advocating for change in Nova Scotia.
The mini-conference will reflect the chorus of voices throughout Mi'kma'ki, with dozens of speakers from across our region sharing their words and thoughts. The many perspectives shared at this conference are intended to ground us, collectively, in a new way of thinking about health care and advocacy.
We hope to see you there! But don't worry if you can't stay for the whole day; we will update this post with recordings the week after the conference, for anyone who was unable to join the live event.