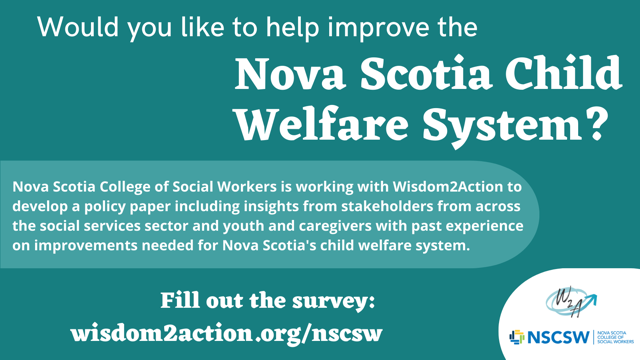 Do you have past experience with the Nova Scotia child welfare system?
---
We are collaborating with Wisdom2Action to develop a policy paper on the improvements needed for Nova Scotia's child welfare system. They have created two surveys, for:
individuals and organizations with experience and knowledge working with Nova Scotia's child welfare systems and policy
former youth in care, family members, and caregivers (not intended to be completed by youth who are currently in this system)
The deadline for responses is June 30, 2022. Learn more: bit.ly/3nUkdJx
These surveys are a follow-up to focus groups held in April 2022, and are intended to collect more information on the strengths, gaps and needs within the child welfare system. The combined insights from the focus groups and the survey will be used to draft a policy paper responding to the following two questions:
What would it take for every child in Nova Scotia to live in a home and a community free of poverty, violence and harm, that allowed them to reach their full potential?
What would it take to create a child protection system that embraced the UN Convention on the Rights of the Child, as well as the calls from the Black and Indigenous Nova Scotians for reform as enshrined in Truth and Reconciliation Commission and in the inquiry into the Home for Coloured Children?