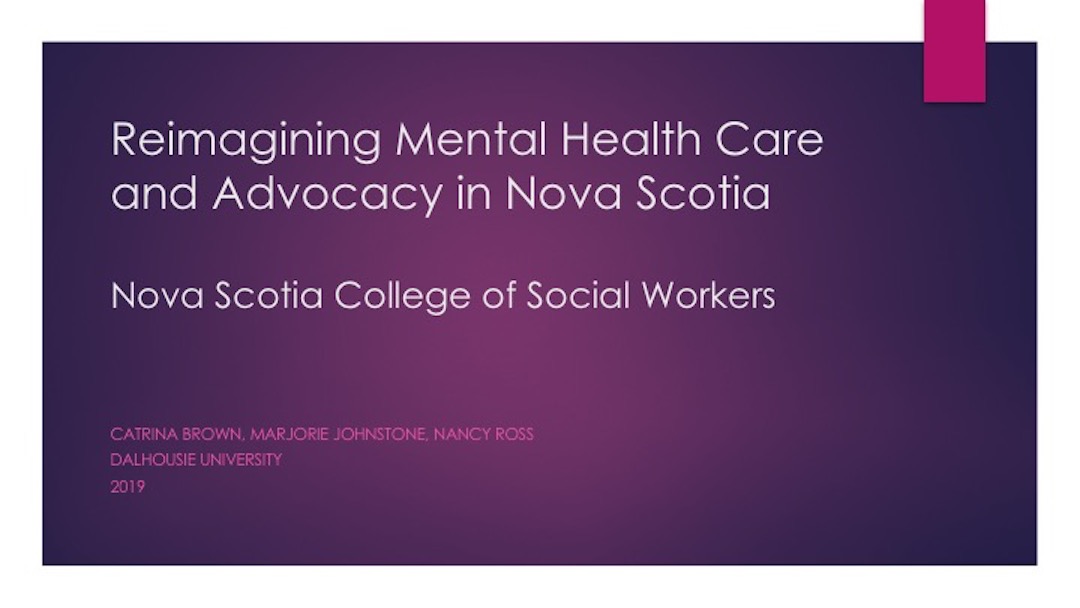 We are partnering with a group of researchers based at Dalhousie University for a mental health research project. The purpose of this study is to compile a mental health advocacy paper for NSCSW.
Dalhousie is conducting a community consultation through an opinion survey and interviews with individual mental health stakeholders on barriers and access to mental health services. Information related to the social determinants of health and information on the impact of gender, race, class, ability, sexual orientation, education and migration on mental health and well-being will also be examined.
The research will seek to identify feasible and inclusive strategies, distinctive to the social work profession, for Nova Scotian social workers to approach mental health services in the province. It will seek to describe how we as a profession can provide services that are rooted in an expanded critical clinical approach, to supplement and enrich existing medical-based mental health services.
This social work project intends to produce a health care advocacy paper that offers recommendations in the areas of public education, particularly around stigma and diversity, mental health policy, programs and services, training, practice, and the centring of social work in mental health services, with attention to co-existing issues of addiction and trauma.
On behalf of the Dalhousie research team, we are seeking to recruit mental health social workers and mental health service supervisors/administrators to participate in this critical research.
If you require further information on this project or would like to participate, please contact Dr. Catrina Brown at catrina.brown@dal.ca.
Please open this link if you wish to participate in the survey. You can stop the survey at any time. It is completely anonymous. Your name will not be attached. At the end of the survey, please click the finish link to confirm your responses and submit them to the researchers.
If you are also interested in participating in an interview, or you require further information on this project, please contact Dr. Catrina Brown at catrina.brown@dal.ca.