Every year during National Social Work Month, we are proud to celebrate our members and increase our advocacy on their behalf. This year, we are excited to announce a month jam-packed with exciting activities, fun giveaways, amazing educational offerings, empowering advocacy events and restorative self-care activities.
The 2022 theme for National Social Work Month is: In Critical Demand, Social Workers are Essential. The growing need for social workers has never been more evident, be it for our incredibly valuable skillset, our uniquely intersectional lens, or our client-focused values, we are proud of the growing recognition for our profession.
We temper the celebration of our strengths with an awareness of the challenges that we must still overcome. We commit to honouring our profession by learning, advocacy, growth, self-awareness, healing and transformation. As such, the many activities that have been organized for the month of March are focused upon providing us opportunities to recognize our limitations, as well as the limitations of our system, and encouraging us to join in community efforts to create a more just and equitable world.
Fundamentally, social work is different from every other helping profession because of our recognition that mental health concerns are inextricably linked to larger systemic injustices. No amount of cognitive behavioral therapy or anti-depressants can help someone whose struggle against racism, poverty and homelessness leads them to a place of hopelessness. Our well-being is inextricably linked with the well-being of every other living being, and the well-being of the eco-system within which we live. We also believe in the therapeutic benefit of clients recognizing the root systemic causes of their symptoms of distress, and empowering them to join us in advocating for systemic change and social justice.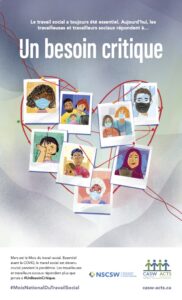 Therefore, at the heart of our month of celebration is advocacy, which is woven into several events, such as our mini-conference on the shadow pandemic on March 4, as well as our closing celebration on March 30 which features Senator Dr. Wanda Thomas Bernard's tribute to Alexa McDonough as she shares her own reflections on "Lessons Learned: The Road to Advocacy".
We are especially excited to feature our very first Advocacy Day on March 16, which will hopefully become an annual event. The goal is to create opportunities for social workers, social work students and social work educators to join together with clients and community organizations in advocating for change. 
All events during National Social Work Month are free to attend, and open to the public; feel free to invite friends and colleagues. We have some amazing door prizes that we will be giving away including books, artwork and free tickets for our annual May conference. We can't wait to see each of you and celebrate the amazing work that you all are doing.
Event schedule
Member forum and celebration
Mini-conference on challenges and opportunities of serving Nova Scotians who face intimate partner violence during the pandemic.
Everything you always wanted to know about starting a private practice but were afraid to ask.
Read critical theory, then bring your lunch and talk about it! The selected article is about dismantling racism in social work education and practice.
A moment for self-compassion and mindfulness.
There are two separate virtual sessions. Come to both, or either.
Morning session
Community Forum: Turning Promises into Policy 
With Dr. Sam Hickcox, organized in collaboration with the Canadian Mental Health Association. Nova Scotia now has an Office of Mental Health and Addictions; how can social workers – and those we ally with – develop their vision for mental health and substance use services in our province?
Afternoon session
Social Work Policy Advocacy 
With Senator Dr. Wanda Thomas Bernard, organized with SENgage and the Canadian Centre for Policy Alternatives-Nova Scotia. Social workers and social work students will advocate with policy-makers for an intersectional and evidence based framework to policy development and legislation
Take a break and recharge at this virtual session with yoga teacher Colleen Tierney.
Social work is unique amongst the helping professions, because of its commitment to social justice, as part of its work to help individuals, families and communities. At the heart of our code of ethics is our commitment to social justice, and our new professional development requirements reflect this value. 
Take a break and recharge with guided meditation.
Our Vicarious Trauma Work Group invites you to learn about a new tool that is being developed for member resources and professional development, and share your feedback.
Our closing celebration for National Social Work Month. Honouring the legacy of Alexa McDonough with Senator Dr. Wanda Thomas Bernard.
Posters
Download PDF in English or French. This year's posters are designed to be printed on legal (8.5″x11″) paper.
Hashtags
Talking social work on social media? Use these hashtags to connect to the larger conversation:
#InCriticalDemand
#NationalSocialWorkMonth
#SocialWorkIsEssential