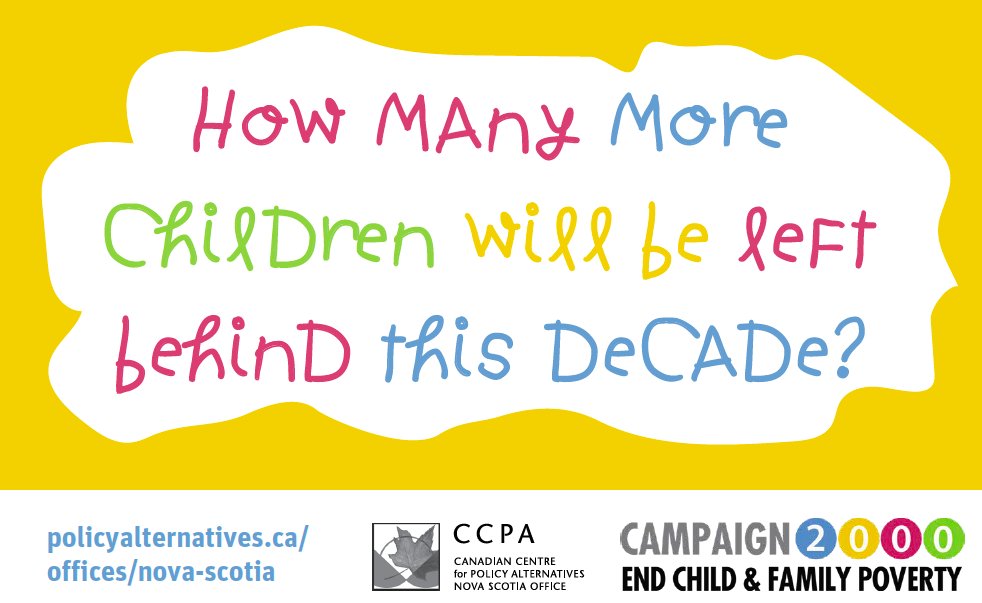 This week the Nova Scotia branch of the Canadian Centre for Policy Alternatives released a new report about child and family poverty in our province.
It has been 30 years since an all-party resolution was passed by the House of Commons to end child poverty in Canada by the year 2000. It is strikingly clear that we have failed, as 19 years past the deadline 40,710 children — about 1 in 4 — still live in poverty in our province. Nova Scotia has reduced child poverty less than 1% from 1989 levels, an uninspiring outcome that is outperformed by every other province in the country.
Child poverty in Nova Scotia is the most severe for our youngest children. For children aged 0-2 years, the child poverty rate is 31 per cent, representing 7910 infants in families that struggle to meet their needs during this crucial stage of development.
Let's be clear: this not a methodology error. This not because of a small sample size. These are facts, and this issue is real.
Child and family poverty has a substantial impact on the wellness of individuals, communities, the economy and our political system. Poverty is not just a measure of inadequate income to meet needs. It is realized in food, housing, and transportation insecurity, poor health outcomes, and the frequent despair of ends not meeting due to structurally imposed conditions beyond individual control – i.e. low wages, precarious employment, weak income supports, racial and gender discrimination, continual colonialization, social and geographical isolation, and lack of affordable and accessible early childcare.
This has had a profound impact on the ability of social workers, teachers, doctors, police officers and many other professionals to deliver public services. The unnecessary and costly strain that poverty places on our systems impacts all of us. Many of the issues that health and social service professionals are dealing with are poverty-related, and often we are reacting to the symptoms of this epidemic, rather than its cause.
What is at the root of our failure as a society to substantially impact poverty? Stubborn faith in a broken, debunked dogma. Our government continues to create policy embedded in an ideology that champions trickle-down economic theories and a belief that the free market is capable of tackling the deep structural issues that keeps poverty so entrenched. The report card demonstrates that we need to start thinking beyond this dogma and to recognize there are limits to what the free market can address; where the market fails, progressive policy needs to be advanced. The report card shows that government policy such the Canadian Child Benefit has played an important role in reducing poverty, but that it is just one piece of what is needed to deal with this substantial problem.
If we are to alleviate the stress that poverty puts on our well-being, our economy and our political system, we must collectively shift our ideology regarding the market and the role of government.
We must look at the evidence that shows that larger intervention is needed. This intervention must involve the creation of labour laws that contribute to shared prosperity with workers. This requires policies that legislate minimum wages that align with the cost of living. It means government investments and programming where the free market has failed to deliver on life's essentials, such as affordable housing, drug plans and child care. It involves transferring wealth directly to those who need direct income supports. It involves valuing the work of professional care and recognizing that our patriarchal system has placed too much burden on the unpaid and underappreciated work of women to provide care for the most vulnerable in our society.
The report card reminds us of our shared responsibility to create change. We can do better. We must.
---
Alec Stratford
NSCSW Registrar/Executive Director
---