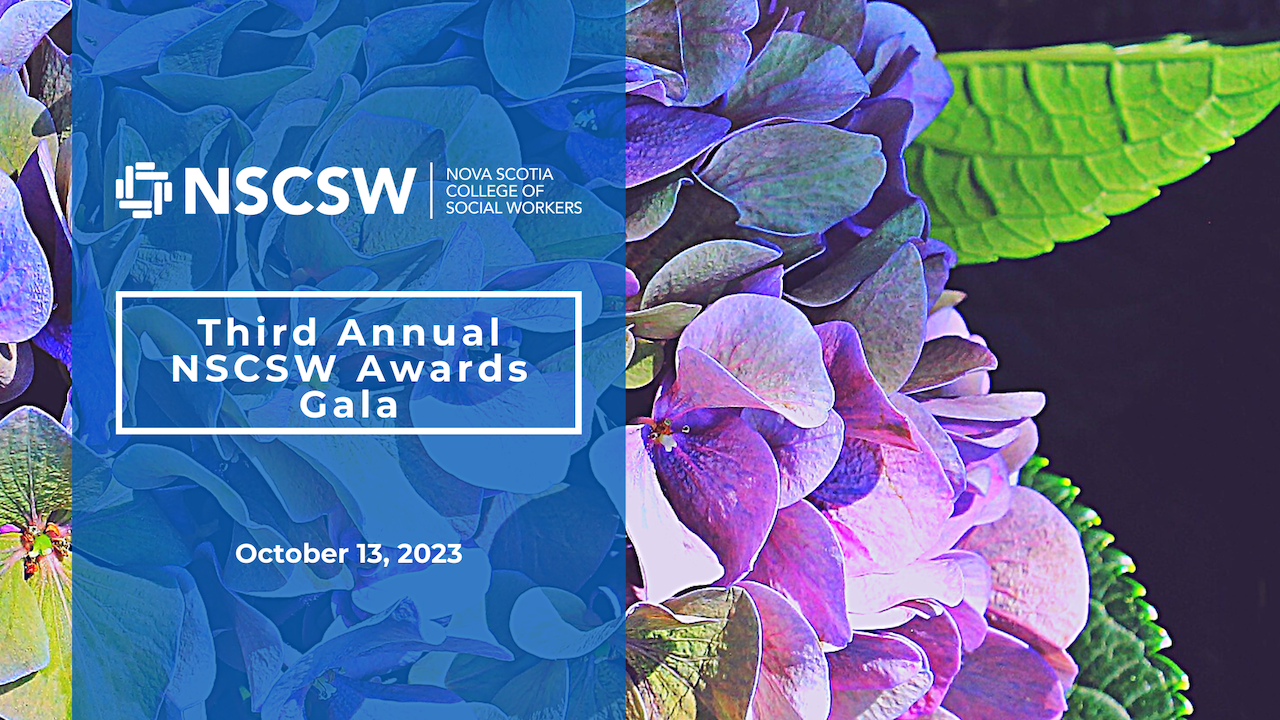 We are proud and gratified to recognize the contributions of social workers in our province every year. Our annual awards program recognizes excellence and dedication in the field of social work, as well as the efforts of our partners in the health and social sectors.
This fall, for the first time since the beginning of the pandemic, we held an in-person gathering to honour our award winning social workers and committed community allies. We invited award nominators and recipients to pre-record their remarks so we could share them with all of you.
We hope you will join us in celebrating them.
Freda Vickery Award
Kaleigh Smith, RSW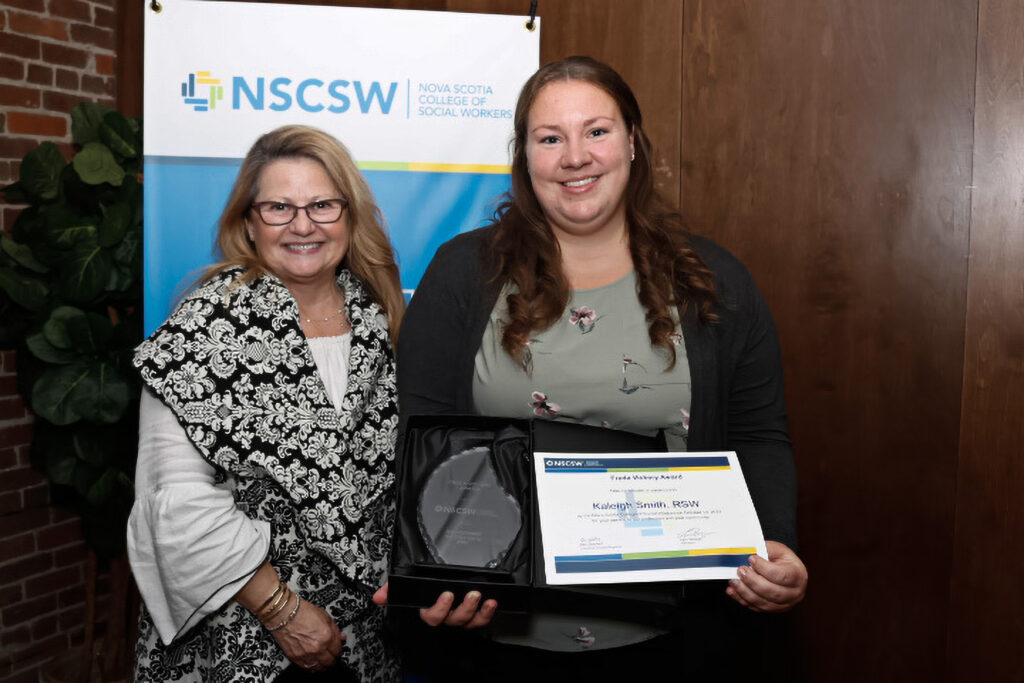 Informed by the lived experience of those she serves, Kaleigh has created an employment project at The Elizabeth Fry Society of Mainland Nova Scotia designed to address employment barriers experienced by criminalized women and gender diverse individuals. The Abundance Store is a physical thrift store in Dartmouth that provides participants with paid job placements and hands-on support.
The Abundance Store has helped individuals gain and enhance employment skills to further their careers and independence without fear of stigma and gain new confidence after incarceration. In addition to employment, clients of the Abundance Program are also able to access programming that fosters independence, wellness and community development. So far, this program has supported more than twenty people in accessing paid job placements, creating opportunities to practice skills such as communication, conflict resolution, budgeting, time management, leadership, and more.
While managing the store, Kaleigh has developed and deepened E Fry's relationships with their community, opening eyes to the importance and potential impact of their programs. Her use of creativity to co-create positive change in her workplace and the wider community has led the people she works with and for to identify her as a role model.
David William Connors Memorial Award
Julien Davis, RSW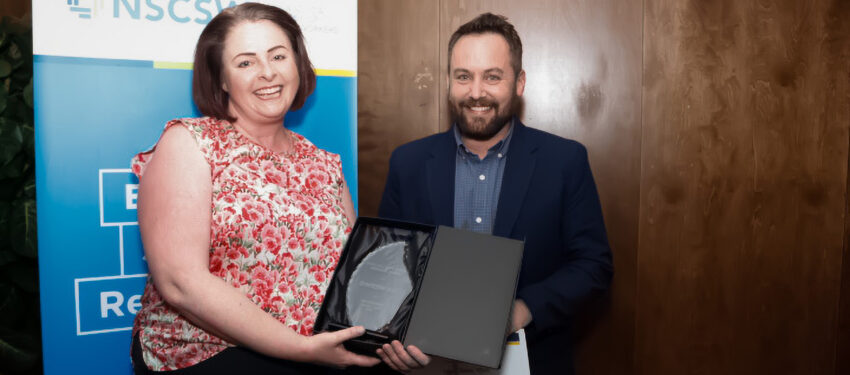 Staff at the Provincial Centre for Training, Education, and Learning enthusiastically nominated their colleague for this honour, citing his significant contributions to the mental well-being of Nova Scotia's population, especially youth who experience stigma and marginalization.
Prior to becoming a social worker, Julien was a support services coordinator at the Youth Project, a board member with the Nova Scotia Rainbow Action Project, worked with Laing House, and had a growing reputation for advocacy within and for 2SLGBTQIA+ community. He has been outspoken about the potential of gender-affirming health care, and organized fundraisers to support trans people in accessing gender-affirming surgery.
As a social worker with Nova Scotia Health, based in the Annapolis Valley, Julien now works directly with youth and their families. He also supports other clinicians working to improve their own skills and their capacity to provide compassionate, client-centred, and evidence-based care, and educates other health providers and leaders. The training he develops and facilitates has included sessions on gender-affirming care, clinical modalities, and integration of anti-racist practices. By bringing his own experience and vulnerability into learning spaces, Julien creates a context in which learners can be vulnerable themselves, can explore their privileges and biases, and can find an openness and willingness to explore new ideas.He repeatedly talks to leaders, managers, clinicians, frontline staff, clerical staff, and primary care providers about what it means to be "engaged with" rather than "done to." He advocates for the role of the family, shared decision-making, the prioritization of the values of the child, youth, and family, and the importance of client autonomy. And he continues to do this in the face of a broader sociopolitical context that has only become more hostile toward trans and nonbinary people.
Julien's practice of social work prioritizes compassion, dignity, respect, self-definition, and autonomy. His colleagues speak warmly of his warmth, accessibility, unconditional support, patience, humour, and depth of therapeutic knowledge. And finally, his work is defined by a dedication to making the world better for young people who face the hardships of growing up in a society characterized by macro, meso, and microaggressions against their very identities. His actions before and after joining the social work profession, in his personal advocacy work, and in his training, supervision, consultation, and now leadership, epitomize the values espoused by the David William Connors Memorial Award.
Ronald Stratford Memorial Award
Kim Whitman-Mansfield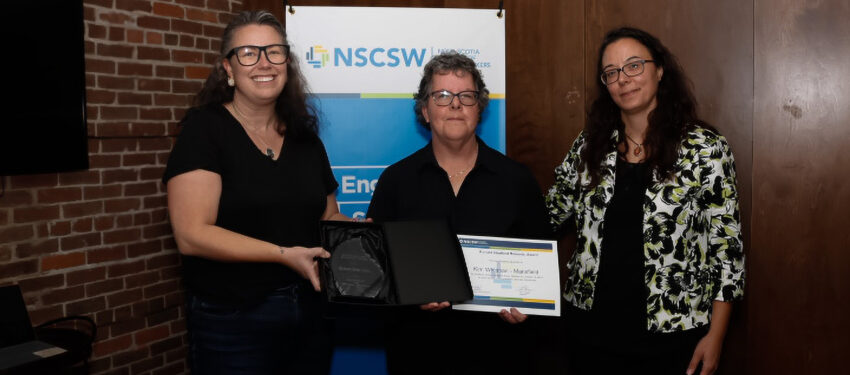 Over the past 15 years, Kim has changed the landscape of youth programming at YMCA on the South Shore, offering thousands of youth connection to community programs and the numerous benefits of physical activity and belongingness. She is a fierce ally, consistently reflecting and questioning who is missing and how she can create diverse, equitable and accessible programming across community. She hears youth, and utilizes their feedback to offer successful programs. She is the definition of collaboration; a regular member and contributor on community meetings and a number one partner of most youth serving community agencies on the south shore. She is a wealth of knowledge on where and when to apply for additional resources, even reviewing other's applications to increase their support of being successful.
Kim is creative and resourceful; she can easily make a bouncy castle into a portable exercise gym and a drop-in program a place where youth and their supports feel welcome, valued and heard. This past year, Kim immediately responded to youth and their supports requests for additional programming in a rural community. She answers the call and works with community to ensure it is sustainable. Kim's collaboration, passion, and advocacy has a significant impact on the communities she supports and aids the social workers that surround her immensely. Her colleagues let us know that she embodies the spirit of the Robert Stratford Award, and they are lucky to know and work with her.
Diane Kays Memorial Award
Kristina Fifield, RSW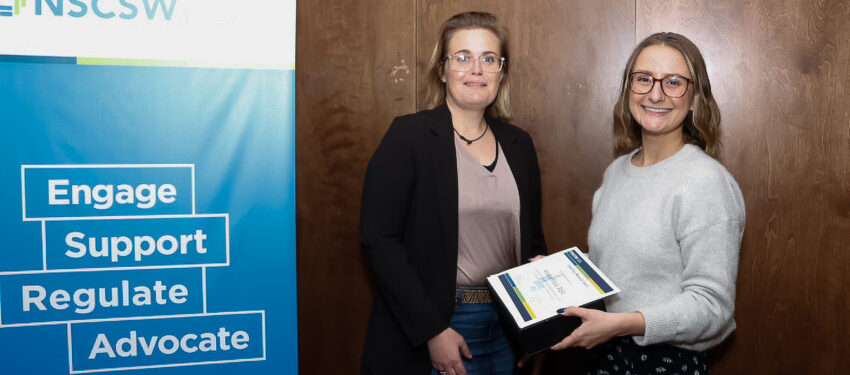 Two colleagues at Avalon Centre nominated Kristina for this award, to recognize her exceptional contributions to the field of social work through her advocacy efforts in the field of gender-based violence. She stands out strongly within Nova Scotia and beyond in joining leadership efforts to spearhead significant systemic advocacy efforts related to the critical area of limiting the use of NDAs in cases of sexual violence, and for her service within a highly crucial role on the Mass Casualty Commission. She continues to analyze the complexities, challenges, and barriers to accessing trauma therapy services for vulnerable and marginalized communities, including those of African Nova-Scotian, Indigenous, immigrant, 2SLGBTQIA+, and rural Nova-Scotians. Kristina's ongoing work in this domain is a testament to her dedication to improving the lives of women and people of all genders, creating safer communities, and her commitment to the values of equality and empowerment.
In addition to her advocacy and community collaboration work, Kristina practices in a trauma therapist role, working diligently to support the safety and healing journey of each person she meets with. She demonstrates commitment to ensuring that the trauma therapy modalities she has trained in are non-pathologizing, and are culturally appropriate to each person who finds the courage to come to Avalon for support. Her unwavering commitment to upholding professional and ethical standards has earned her the respect and admiration of those she works with.
Several members who personally knew Diane Kays have assured us that recognizing Kristina with this award is a fitting way to honour Diane's legacy of dedication and passion in this field of practice.
Social Justice Ally Award
Dr. Suzanne Zinck
Dr. Zinck has been a long time advocate for the 2SLGBTQIA+ community, and has been an ally in the advocacy efforts of the NSCSW Social Justice Committee. She practices as a psychiatrist with children and youth psychiatry at the IWK Health Centre, in Halifax, Nova Scotia. She has practiced as an educator teaching and supervising medical students, pediatric residents, psychiatry residents and fellows. And she is an active and passionate participant in interprofessional knowledge transfer and collaboration to promote safe and affirming support for gender dysphoric, gender non-binary and transgender children and youth, whether in health care settings, in schools, or in the community.
We are so pleased to be able to recognize Dr. Zinck's efforts with this award. She is tireless in the work she does, and she continues to be a trailblazer in trans rights and trans health within our province.